Am Ch Keelypso's Man O' War
1st Major Win at Waco, TX


Winston won RWD several times as a young puppy, while being shown by our son, Soren Christopher. He even placed 4th in the 6-9 Month Puppy class at the Keeshond Club National Specialty in Vancouver, WA, shown by Soren. However, Soren lost interest in showing and turned Winston
over to Mom in the Fall of 2006. He immediately won RWD at the Pueblo,
CO show and a few weeks later took RWD to Val the first day of the
Waco, TX shows and won WD and BOW the next day for a four point
major. He then went on to win WD the last two days at the Denver,
CO shows, earning 4 point major wins each day, and finished his Championship by going WD and BOW both days in Garden City, KS. With Mom on the end of the lead, Winston showed a total of ten days before
completing his Championship, taking WD five of the ten and RWD
two of the ten. Winston matured into a very nice boy with gorgeous color and a very masculine head, a nice barrel chest and excellent muscling. As nice as he is, he gets a bit nervous in the show ring and hasn't been shown since 2007. He has been bred once to Dazzle, Am Ch Darkenwald Aurora At Karina's, and produced a litter of 8 pups. They were very cobby and very nicely marked with excellent color. We originally kept one bitch to show, however, as nice as she was, she was not going to be tall enough to be competitive and we placed her.

Winston's OFA certification numbers:
Hips - Certificate pending
Elbows - Certificate pending
Thyroid - KE-TH136/20M-PI
Cardiac - KE-CA77/23M/P-PI
Patellae - PA388/26M/P-PI
CERF - KE-1109/2009--49
PHPT - Negative by descent
CHIC # 61881

We, very sadly, lost our sweet Winston to cancer in September of 2015. He and his huge Keesie grin will be greatly missed!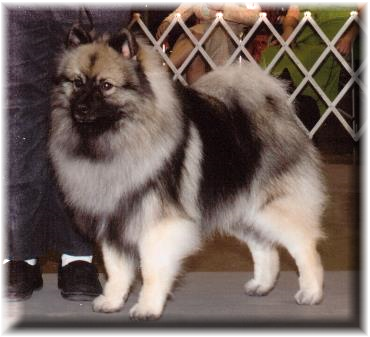 Winston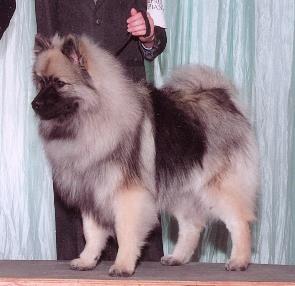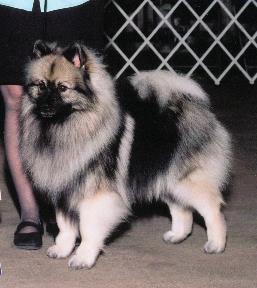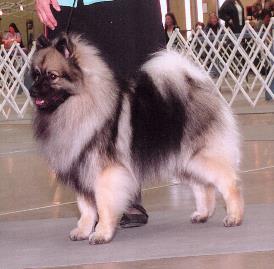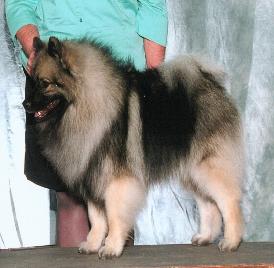 WD & 2nd Major at Denver, CO
WD & Bow at Garden City, KS
WD & Bow & New Champion at Garden City, KS