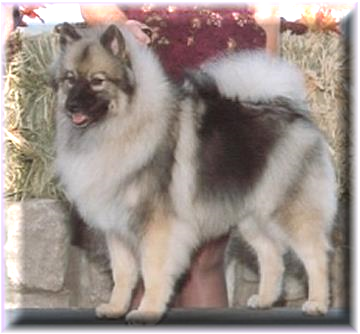 Tala
Am/Can Ch Southcar's Devil In Disguise
Group 2 Placement in Alamogordo, NM



Tala was our first show dog and taught us a great deal about
showing and humility. Tala won her first two majors on back to back
weekends and sat on needing two points to finish for several
months while she decided to not be in good show coat. When she
finally did put on enough coat, she took her final points
by defeating a top winning Bitch Special to take Best of Breed
three times and Best of Opposite Sex once during an eight day
show circuit. At three years of age she whelped her first litter. We
retained the pick bitch while the only male went to live with the
owner of the sire of the litter, Heather Crooks, in Canada. Her son went on to win a Best Puppy In Show with Heather.

Tala was back in decent, but not full coat, by mid-May, 2002and went
back into the ring as a Special. By early December, she had
garnered 32 BOS wins, 4 BOB wins, with one coming over a top
ranked Dog Special, and was awarded one Group 3 and one Group 2
placement. She completed the year ranked number 3 Show Bitch in
the breed and number 4 Bitch in the breed, all owner-handled.

Tala's attributes included gorgeous side gait and front movement
and a striking, elegant length of neck. She was proper sized at 17
1/4" at the withers and only slightly longer in the back than she was
tall. She had a nice tail set and ear set and well defined markings.
Her shortcomings included a creamy undercoat that is not preferred
by some breeders and Judges, but is allowed in the standard,
and a tendency to move a bit close in the rear. She possessed a
great deal of flashy show attitude, that surely helped win her more
than a few of her many wins. She was a pleasure to show and a
wonderful and eerily intelligent member of our family, not to
mention an excellent brood bitch. Unfortunately, she developed a
potentially life threatening condition called pyometra in May of
2004 and had to be spayed. To her dismay, she was only able to
show at Specialties and certain Veteran competitions from that point on. She competed in a Veteran competition at the Southern Colorado KC show when she was a month shy of 12 years of age and won the Breed and a Group 1 in the Non-Sporting Group. The Group Judge was amazed that she was almost 12, due to her gorgeous movement and her other physical attributes.

Tala's OFA certification numbers:
CERF - KE 576
Hips - KE3196E31F-PI
Elbows - KE EL88F31-PI
Thyroid - KE-TH20/31F-PI

Tala was the love of Cindy's life and we lost her in September of 2014, just 3 months shy of 16 years of age. It was a devastating loss and she is still in our hearts and thoughts. Rest in peace our "Sweet Pea" and "Queen Bee". You will always be the standard to which we strive!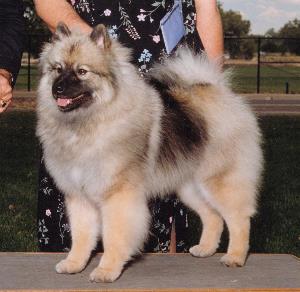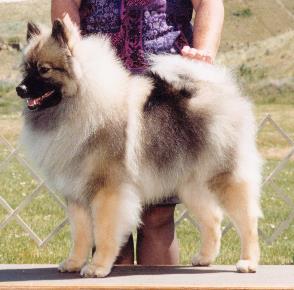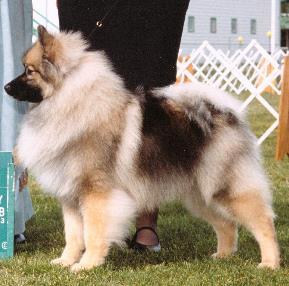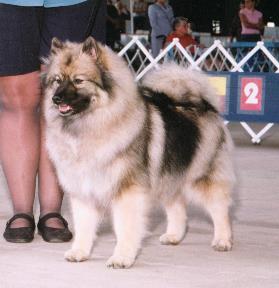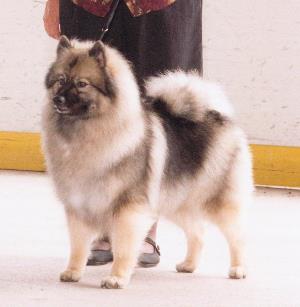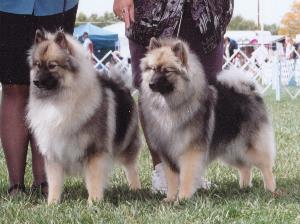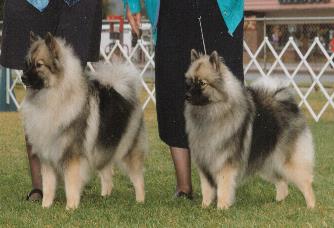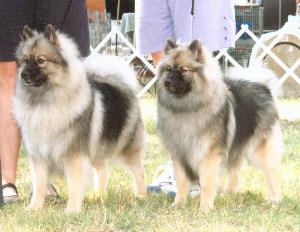 2nd BOB win & new AKC Champion
Another of her 32 BOS wins in 2002
BOS with Rebel's WB/BBE in Los Lunas, NM
BOS with Rebel's WB in Alamogordo, NM
BOB with Rebel's WB in Roswell, NM