Rebel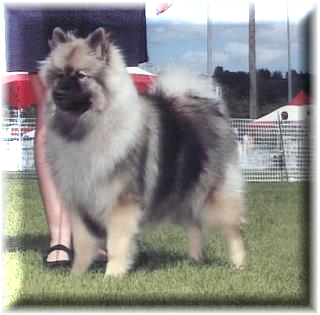 Int'l Ch Keelypso's Devil W'O A Cause



Rebel was the pick bitch from Tala's first litter. She won her first
points at nine months of age with a five point major. She was along
for the ride while her mother was being campaigned and managed to
rack up eight more points, which included going up over her mother
twice to take BOS. She also took a Group 3 placement in the
Bred By Exhibitor group at a show in New Mexico. Unfortunately, she dropped her puppy coat at eleven months of age and came into a much shorter adult coat. Even though this is a correct coat length for a bitch and much
easier to maintain, the shorter coats do not fair well in the show
ring. Rebel had an uncanny ability to sense when she had been entered in a show and would invariably drop coat a few days before the show. She sat on needing three points in the form of one major in order to finish, due to being out of the show ring for a couple of years in order to be bred. She did complete
her International Championship in March of 2003 and managed a
Group 3 in the Bred By Exhibitor group there, as well. Due to complications of pyometra, Rebel had to be spayed in May of 2007 and never had the opportunity to complete her AKC Championship.

Rebel's best attributes were her side gait, her gorgeous front and nice rear, a
very nice tail set and ear set and well defined markings with nice, dark
coloring. Her undercoat was somewhat creamy, but not to the extent
of her mother's. She had a nice almond eye and very nice bite. She
was a bit smaller than her mother, only reaching a tad over 16" at the
withers, but had good neck and was fairly short backed, although the
short coat sometimes made her appear a bit long.

Rebel whelped her first litter of six pups on July 5, 2005, three
males and three females. We retained the pick bitch and pick male from the litter, Tia and Winston.

Rebel's OFA certification numbers:
CERF - KE-842
Hips - KE-3555G29F-PI
Elbows - KE-EL157F29-PI
Patellae - KE-PA171/29F/P-PI
Thyroid - Equivocal (Although her thyroid function tested normal,
she had one level that was on the cusp of being out of normal
ranges and, therefore, could not be certified completely normal.)

Rebel never liked being part of a large family of Kees and would lay in a corner by herself until the others were put to bed in the evening and then she would come alive. We decided she wanted to be a only dog and placed her with a lady in Southern Colorado, a decision we regret to this day. She has since passed away and we really miss her a lot.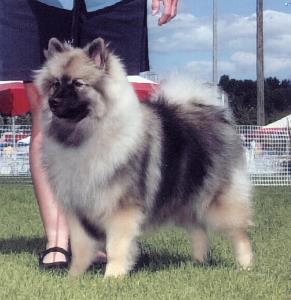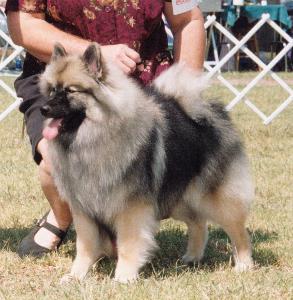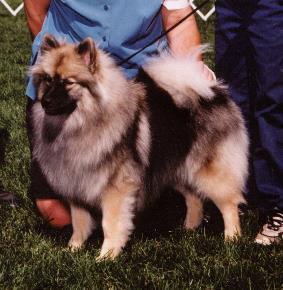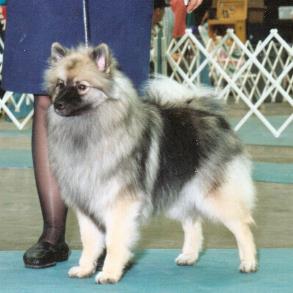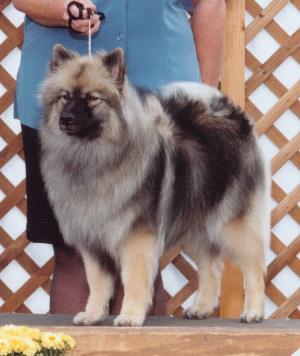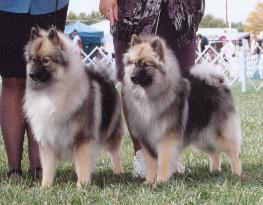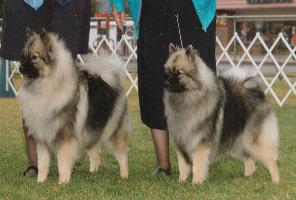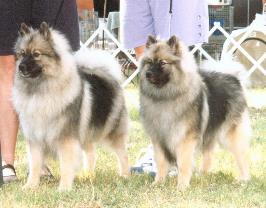 BOW & BPIB Win in Alberta, CA
WB/BOS Win in Roswell, NM over her mother
WB Win in Grand Junction, CO
WB/BOS Win in Lubbock, TX over her mother
BBE Group 3 Placement in Los Lunas, NM
Tala's BOS & Rebel's WB/BBE in Los Lunas, NM
Tala's BOS & Rebel's WB in Alamogordo, NM
Tala's BOB & Rebel's WB in Roswell, NM
Rebel was never able to get as much attention as she desired in our full household and decided to pack her doggy bags and move in with a wonderful lady in south Colorado. Sadly, she developed a rare form of cancer and passed away in the summer of 2009. Her last year was filled with wonderful days spent on her ranch in southern Colorado where she was laid to rest. We miss her horribly!